Welcome Foolish Mortal
You have unlocked the portal to The Frightbytes Manor Tour and Scavenger Hunt.
After reading the brief description, simply click on the book.
You will be transported into it's spooky realm.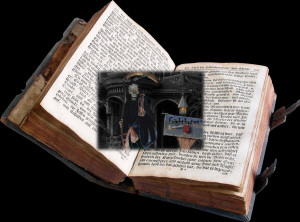 The Spooky Webmistress' butler Jeeves has hidden her delicious treasures.
Find all of them during this Scavenger Hunt and tour of the Manor.
Your just desserts will be a Secret Story of Frightbytes Manor dark and disturbing past,
and the story of Jeeves broken heart and separation from his true love.
Are you hungry for some good old fashioned hide and seek?
Find the Spooky Webmistress' hidden treasures.
Come see what's served up.
Just hope it isn't YOU!
Are you hungry for a little fright?

This story uses FLASH.