Welcome Foolish Mortal
You have unlocked the portal to The Hauntings Part 1.
After reading the brief description, simply click on the book.
You will be transported into it's nightmarish realm.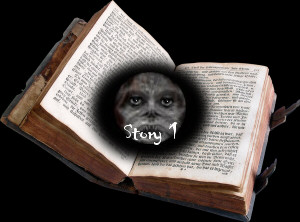 Click HERE to enter OR select older version below.

Many of you have commented that you miss the original midi music of The Hauntings. For you I have uploaded an older version of the story that contains the original music. Click HERE to view the older version of the story.

Listen to the night wind as it whispers your name..it is calling.
Part 1 of a 2 part series. This is the original story that started Frightbytes in 1998.
Journey into Salems Marsh on a stormy Halloween and attempt to rescue The Lost Souls.
Your decisions decide your fate in this classic "choose your own adventure".
Different paths will lead to different endings.
Choosing the wrong path or opening the wrong doors
will prove there are a million ways to meet a horrifying end.
Served with a side of tongue-in-cheek & alot of cheese.
Are you hungry for a little fright?