Welcome Foolish Mortal
You have unlocked the portal to The Zombie Invasion.
After reading the brief description, simply click on the book.
You will be transported into it's nightmarish realm.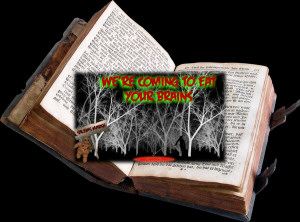 This is a Super sized adventure.
Three (3) stories in one and over 100 pages of interactive zombie chaos.
Try to defeat the evil Sorceress who has brought the dead to life.
Your decisions determine your fate in a world where even humans are deadly.
You may even become a Zombie yourself!
Extreme terror awaits you on every page.
Served rare and chewy.
Are you hungry for a little fright?

This story uses FLASH.