With the contents of the mysterious box laid out before you, your eyes are drawn to a roughly drawn map with several locations marked. One of them is Miss Grul's Boarding House.

A sudden whooshing wind blows thru your room rustling the papers and raising the dust from them. The lights go out and the room becomes chilled as you watch your breath turn to vapor from the cold. A presence is felt and you are paralyzed in fear as a disembodied eerie voice whispers in your ear: "Wherever you are, it will always follow you - waiting. All you can do is accept it and pass it along to someone else."

And with that you know without question a curse has been passed to you. You must make the journey to this haunted place. Click on the map to reach your destination - Salems Marsh and Miss Grul's Boarding House.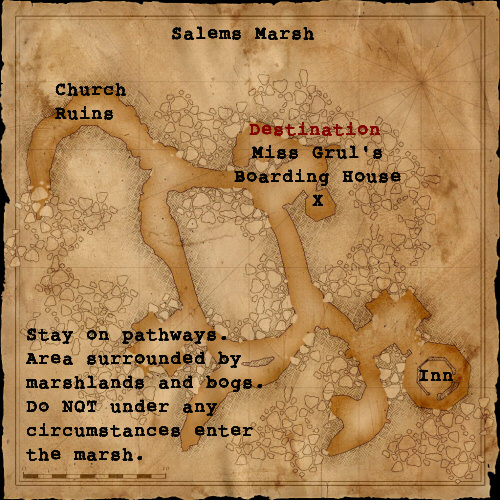 Travel to Salems Marsh