Help to keep the horror alive and well!






It Was A Dark and Stormy Night



Well, at least I think it was dark. Eighteen years ago in the summer of 1998 is when it all began. After learning some basic html coding and having harnessed the power to add music, sound effects, and animation to a webpage, Frightbytes® was created. Like a laboratory experiment gone bad it was pieced together byte by byte with some mighty primitive tools - a kids graphics program called "Flying Colors", Notepad, a fondness for anything horror related, and the company of an obsessive/compulsive 120lb. lap dog of dubious heritage gnawing at my socks.



THE FRIGHTBYTES® STAFF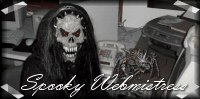 Please consider donating - need socks (it's cold down here in the crypt), Space Dog needs therapy and Dave, well he's a zombie - 'nuff said.

Donations can be made safely and securely via Pay Pal.



I make no profit from this site. Frightbytes has been purely a labor of love since it began so many years ago. Yes, I do ask for donations but only as a way to be able to support my selected animal charities. When you make a donation, become a sponsor, or purchase any graphics you not only help keep this site going, but your generosity also helps animals in the shelter.

Your donations/sponsorships are helping to support these wonderful animal welfare groups. If you do not want to donate to Frightbytes, PLEASE consider making a small donation to one of these individual animal charities. They all need our help.



Nowzad Dogs - (Rescuing military companion animals in Afghanistan)
D.A.W.G. (for the dogs)
VIVA (for the cats)
Animal Rescue Team (for the wildlife)
Bunnies Urgently Needing Shelter (B.U.N.S.)
K-9 Pals

I AM A X-BOX ADDICT



I've been a gamer since Atari came out with their 2600. Yes, I'm that old. Now I burn up X-box consoles routinely and spend my retirement nest-egg on games.




GAMES CURRENTLY PLAYING 2016
Dying Light The Following
Fallout 4
Fallout New Vegas Ultimate Edition
Halo Master Chief Edition

"We don't stop playing because we get old, we get old because we stop playing."





The Frightbytes Webmistress shares her office with a Red Ear Slider turtle named Clyde.


HAPPY HAUNTINGS - SWEET SCREAMS
THANKS GHOULS



Return to Frightbytes® Main Page

Sponsorship is a donation and is not refundable.


FRIGHTBYTES® is a federally registered trademark of Frightbytes.com.







Some of my Minecraft pictures.