-STORIES-QUOTES-FOOLS-

-DOWNLOADS-

-EVIL FUN & LINK EXCHANGE-

-INFORMATION-

-HALLOWEEN SHOPPING-

Dark Thoughts Of The Moment:

"We are fascinated by the darkness in ourselves, we are fascinated by the shadow, we are fascinated by the boogeyman."

"This is the witching hour. It is the hour when dogs howl, and evil is let loose on the sleeping world. Want to hear about it? Then turn your lights out!"

More spooky quotes here.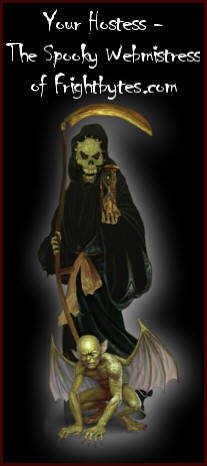 The Frightbytes Webmistress shares her office with a Red Ear Slider turtle named Clyde.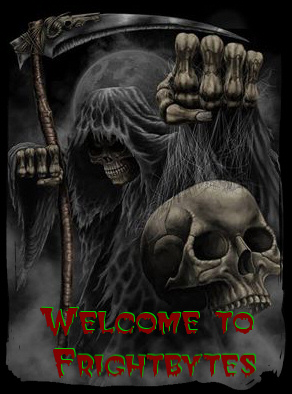 It was a dark and stormy night....



Bolt the doors, check the closets, turn up your speakers, and turn off the lights! Welcome to FRIGHTBYTES.COM, home of one of the first virtual haunts. We've been serving up spooky, family friendly online entertainment since 1998. See if you can survive the torturous twists and turns in our haunted domain. Your decisions will determine your fate in our interactive horror stories set in various spooky virtual settings complete with spooky graphics, scary sound effects and Flash movies. Visit Salems Marsh Asylum, a Haunted Inn, come to the Carnival of Terror, survive a Zombie Invasion, visit Purgatory, explore a Haunted House, and much more. Many have come before you. Sometimes in the quiet stillness of my tomb I can hear their screams....such delicious music to my ears.


Are You Hungry For A Little Fright?
The Spooky Webmistress of Frightbytes®

MAIN COURSE - THE INTERACTIVE STORIES




Frightbytes Carnival of Terror


Ride the Tunnel of Terror and find the hidden Soul Orbs. The Carnival is a quirky little adventure for those with a taste for the dark side. We will feast upon your soul!


Frightbytes Manor Tour


The Spooky Webmistress' butler Jeeves has hidden her delicious treasures. Find all of them during this Scavenger Hunt and your just desserts will be a Secret Story of Frightbytes Manor dark and disturbing past. Are you hungry for some good old fashioned hide and seek? Come see what's served up.


Frightbytes Salems Marsh Asylum


Enter the old Asylum and discover disturbing secrets none have dared to uncover. The unfolding story is filled with horror and despair. Slowly roasted in evil thoughts and deeds with a heavy glaze of nutty madness. For dessert, Fruitcake of course!

Zombie Invasion


Super sized text adventure with 3 stories in one and over 100 pages of interactive zombie chaos. Served rare and chewy.


Haunted Inn


Checkout time is Never! Check into your room and open the old inn-keepers book to begin exploring the haunted inn. Served with a side of fear.


True Ghost Stories


Spirits just won't leave me alone for some reason. My own true accounts of paranormal activity. Seasoned with mystery and sprinkled with goosebumps.
Sponsor Link


Sponsor Link



The Hauntings #1


Listen to the night wind as it whispers your name..it is calling. Part 1 of a 2 part series. Served with a side of tongue-in-cheek & alot of cheese.


The Hauntings #2


Picks up where Part 1 leaves off. Another Halloween, another crazed fill adventure. Ample servings of death served up.


Purgatory


Become a tourist in Purgatory. Meet friends and foes. Most visitors return to land of living. Served cold and dead with a side of freaky.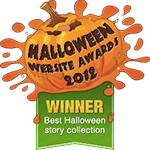 We had alot of "stiff" competition but in the end we were honored to receive this award.
Thank you All Fancy Dress

If you have enjoyed my website please consider making a small donation. You can also help by becoming a sponsor by advertising your Halloween or horror website. Donations are used to support our favorite local animal welfare charities and to help pay for webhosting costs. When you make a donation you not only help keep this site going, but your generosity also helps animals in the shelter. Without the support of the online community Frightbytes will simply vanish. Oh the HORROR! If you would like to continue to be haunted please visit our donation page HERE. Thanks Ghouls!

More Yummy Horror Stuff

Download a souvenir of your Frightbytes visit, a 1600x1200 computer desktop wallpaper!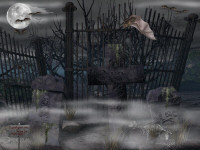 I've gone insane and offering my spooky flash banners for free.
These and much more can be dug up at Frightbytes® Graphic Gallery.

But wait! There's more buried here!



Visit our Fortune Teller. Learn about your past, present and future. Your fate depends on the card you pick.

Kill some time navigating your way out of our Spooky Mazes. Who knows what monsters may be lurking there.

Who can resist a Scary Smiley? We have a collection of all sorts of those evil little creatures.

Got Brains? Or are you looking for wicked witty Horror Quotations? We've been collecting creepy quotes for a long time.

Are you superstitious of black cats, ladders, Friday the 13th? We've got those and many more omens of doom, despair and your possible demise. They are waiting for you in the Superstitions Crypt.

Other creepy crawly things are buried at Frightbytes®, just get your shovel and dig! Happy Hauntings and Sweet Screams.



Haunted House - by Jack Prelutsky
There's a house upon the hilltop
We will not go inside
For that is where the witches live,
Where ghosts and goblins hide.

Tonight they have their party,
All the lights are burning bright,
But oh we will not go inside
The haunted house tonight.

The demons there are whirling
And the spirits swirl about.
They sing their songs to Halloween.
"Come join the fun," they shout.

But we do not want to go there
So we run with all our might
And oh we will not go inside
The haunted house tonight.

THE FRIGHTBYTES® NETWORK
FRIGHTBYTES® is a federally registered trademark of Frightbytes.com.
Online Entertainment Spooky Graphics and Sounds
Copyright © 1998-2014 (or Until Hell Freezes Over)
by M. Buck, All Rights Reserved
FRIGHTBYTES.COM/FRIGHTBYTES.NET
Website Graphic Design by FRIGHTBYTES®
Spooky Online Entertainment and Multi-Media Graphic Design Services
"Are you hungry for a little fright?"


In memory of Space Dog 1997-Christmas 2006.
The old crypt ain't never gonna be the same.
Sit, stay, haunt me - until we meet again old friend.....


Please consider making a small donation to help keep Frightbytes® online. Otherwise I may have to shoot this zombie. Donations will go to the care and feeding of this zombie. His name is Dave. Thank you.


NOW OPEN
Are you crazy? If so, you belong in Frightbytes® Asylum. Send your photo.
Get your Zombie, white out lenses from SpookyEyes.com